Hoy hablaremos sobre el estilo de las estrellas más famosas desde hace varias generaciones: La seductora
Marilyn Monroe
, la dulce
Audrey Hepburn
y la elegante
Grace Kelly.
Las tres mujeres son distintas en lo referente a su personalidad y comienzo de su trayectoria como actrices pero tienen algo en común: interpretan a personajes, son glamourosas y muy admiradas por mucha gente del mundo.
Today, we´ll talk about the most famous star´s style for generations; the seductive Marilyn Monroe, the sweet Audrey Hepburn and the elegant Grace Kelly
The three women are different in terms of their personality and the beginning of his career as actresses but they have something in common: they portray characters, they are glamourous, and they are very admired by many people in the world
Comenzamos con la rubia de platino más seductora, Marilyn Monroe:
Marilyn Monroe
comenzó siendo descubierta en una fabrica de material aeronáutico posando para un fotografo y aceptó la propuesta de formar parte de una agencia de modelos, cambió el color de su pelo a un rubio platino sexy, su popularidad fue incrementando con el tiempo y fue contratada para realizar un papel en una película y así es como se convirtió en una estrella de cine.
El estilo de Marilyn es caracterizado por ser glamouroso, picante, seductor, elegante. Supo combinar la dulzura y la seducción con clase.
We start with the most seductive platinum blond, Marilyn Monroe:
Marilyn Monroe began being discovered in a equipment aeronautical factory, posing for a photographer and accepted the offer to be part of a modeling agency, she changed her hair´s colour to a platinum blonde sexy, her popularity was increased over time and was hired for a role in a movie and that´s how she became a movie star.
Marilyn's style is characterized as glamorous, spicy, seductive, elegant. She knew how to combine the sweetness and seduction classy.
Audrey Hepburn fue una bailarina que realizó pequeños papeles en algunas películas y trabajó como corista en algunos teatros de su época. Gracias a la película llamada "Vacaciones en Roma" obtuvo su premio a la mejor actriz y siguió cosechando éxito a lo largo de su trayectoria como actriz.
Destaca su estilo por ser elegante, tiene un aire francés chic, lady, dulce.
Audrey Hepburn was a dancer who did small roles in some films, and she worked as a showgirl in some theaters of his time. Thanks to the movie called "Roman Holiday" won the prize for best actress and reaping success continued throughout his career as an actress.
Emphasizes his style to be elegant, has a chic French air, lady, sweet.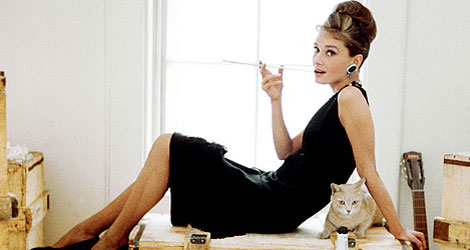 Y por último, la que fue Princesa de Mónaco, Grace Kelly
Estuvo en una Academia Americana de Arte Dramático, después debuto en Broadway y en varios filmes. Saltó a la fama con la película "La angustia de vivir" que le mereció un Oscar.
En 1955 conoció al príncipe Rainiero de Mónaco con quien se casó y abandonó su carrera de actriz para convertirse en una princesa.
Grace Kelly tenía un estilo sofisticado, discreto, elegante, destacaba con su vestuario de princesa.
And finally, the ancient Princess of Monaco, Grace Kelly
She was in an American Academy of Dramatic Arts, then, she debuted on Broadway in some films. She jumped to fame with the film "The Country Girl" that earned her an Oscar.
In 1955. she met Prince Rainiero of Mónaco, who she married and left her actress career to become a Princess.
Grace Kelly had a sophisticated style, discreet, elegant and sophisticated style, and she stood with her princess costume.
¿Qué estilo de estas actrices es vuestro favorito y os inspira?
What style of these actresses is your favorite and inspires you?